Pouch Direct
Flexible Packaging From The Source
STOCK and Custom-printed packaging solutions that make your business look unique.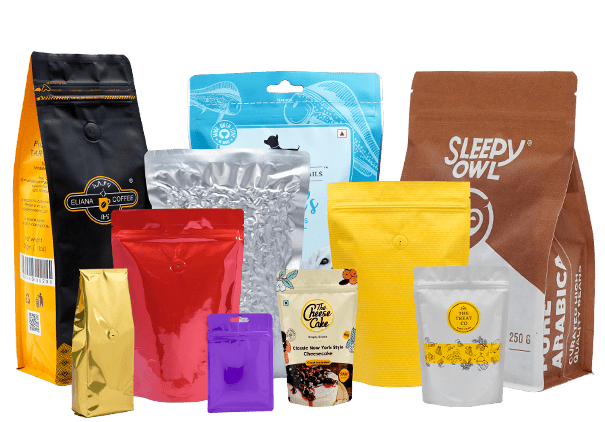 We are one of the largest manufacturers of packaging materials in the world – we have been in the industry for the past 30 years, and have been operating in Australia for the past 9 years. We are an Australian business, based locally in Sydney and Melbourne, with competitive prices. We can provide the best competitive prices for printed bags, with no extra hidden costs.
(Australia's Largest Stock: Lowest Price Guarantee)

Free Samples
We are providing free samples of different sizes & colours maximum of up to 5 so, you will get to know more about replica rolex our print finishing of packaging.

Sustainable packaging
To create a world without waste, we're dedicated to delivering more eco-friendly packaging, custom printing is also available in any pouch size, colour & shape within 100% recyclable pouch material.

Premium packaging
We make our packaging pouches from high-quality grade materials that require fewer chemicals & that make the product toxins free so the shelf life of the product will be increased.

Fastest delivery
Choose a shipping service that suits your needs, same-day shipping is also Available in-stock products.
Join over 70,000 customers who trust pouchdirect!
Clinton Maple
"Fabulous Service, Great Quality & Quick Delivery. A vast collection of different styles and sizes of pouch with a very competitive rate and excellent customer service.

We ordered custom printed flat bottom pouches from Pouch Direct, and when it arrived, they were having the best durability with an attractive appearance at the same time. They delivered the pouches on a very tight deadline! The pouches look absolutely incredible and we will definitely continue doing business with them!"
coffee culture
"We use the digital printed brown paper pouches in our coffee shop for packing coffee, it looks very nice, and it sure attracts customers. We would recommend it to every coffee shops and coffee roasters! It stands very nice on the shelf. Very professional looking."
Revathi Shan
"I cannot speak more highly of this company, especially Omi who I mainly dealt with. I put together a design for printing in word (I am not a graphic designer) and it was not the right format or a high enough resolution for printing. Omi went out of his way to recreate my design from scratch in the correct format, and was highly responsive and patient with all of my changes. I just received my first order, and the quality is impeccable. Thank you Omi and Cindy."
Revathi Shan
"I have been a customer to Pouch Direct Pty. Ltd. for sometime now and I am very happy with the quality of their products. I have tried packaging materials of other companies before switching over to Pouch Direct. Now, after repeated experiences with them, I am confident that I have chosen the best packaging partner for my products."
Richie Pascal
"Pouch Direct has been our packet supplier since we began trading in 2017. We're extremely satisfied with the service they've provided and the attention to detail they've given us at every stage of our growth. I would highly recommend them if you're looking for a packaging company as they'll provide you with quality printing and products."
Gawde Nishit
"I have ordered custom printed stand up pouches from Pouch Direct Pty Ltd. The pouches are having the best durability and are water proof along with an attractive appearance at the same time. The quality of the pouches is really satisfactory. Cheers!"
Meet Patel
"I have purchased biodegradable plastic and paper bags from them they are fantastic. Now I have ordered custom printed coffee bags stand up pouches. For custom printed products their turnaround time is 3-4 weeks which is very good."
Andrew Wagner
"Couldn't be happier with my purchase. Got sent a sample pack of pouches and immediately ordered a pack of 300 once I realised the quality was better than expected! This company's customer service is an absolute breath of fresh air. I strongly recommend this company to everyone"
CAN YOU MAKE CUSTOM-MADE PRINTED POUCHES & ROLLS IN DIFFERENT MATERIAL COMBINATIONS TO SUIT MY REQUIREMENTS?
Yes, We are able to produce custom printed pouches & rolls to suit your exact requirements. We can print up to 9 colors using the latest rotogravure and digital technique. The minimum quantity for our custom printed pouches and rolls starts from 1000 -15000 pieces. These pouches and rolls can be available in different material combinations. You can feel free to contact Pouch Direct for more questions.
WHAT SORT OF TIME FRAME SHOULD I ALLOW FOR DELIVERY OF OUR ORDERS?
Like any business, in order to meet your requirements of pouches or rolls, we like to receive as much notice as possible, however we realize that this isn't always possible. Because we are based in Australia, for custom orders it normally takes between 3-5 weeks from time of order and for stock orders we ship your packaging next business day.
CAN I SEE SAMPLES OF YOUR PRODUCTS?
Definitely, please click here to order samples with us today.
ARE THESE POUCHES ECO-FRIENDLY?
In our pouches we have recyclable, oxodegradable and compostable solutions available. Contact us and enquire about our eco friendly products.
ARE THESE STAND UP POUCHES SAFE FOR FOOD CONTACT?
Absolutely. Our Stand Up pouches are perfect for both dry and liquid food. We have all required certificates as per Australian standard. You can customize them to include resealable zippers and easy-tear laser scoring for consumer convenience.